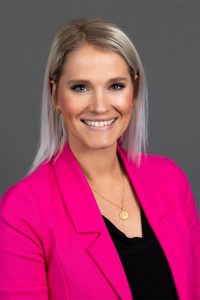 I started my career with Fuqua Campbell, P.A. in 2011 as a paralegal. I have always had an interest in the law, and this position allowed me to follow that interest. I focus primarily on commercial litigation and employment law, although I work in many other areas as well. I truly love working with our clients and intend to continue my work as a paralegal for as long as possible.
In 2016, the shareholders of the law firm asked that I accept the position of Chief Operating Officer, take control over all operations of the firm, and develop a five-year plan moving forward. They also asked that I take over as managing member of the real estate group that owns our suite of offices in the Riviera Condominiums. Their goal was to transfer all operational responsibilities to a COO so that they could focus their full attention on their practice and clients (rather than running a business). I accepted this enormous challenge with pride, optimism, and more than a little trepidation.
In June of 2020, I was promoted as Chief Executive Officer. My responsibilities as CEO include staffing, human resources, finances, insurance, benefits, loans, acquisitions, client development, charitable contributions and activities, and overall firm growth and direction. It also includes serving as the chairman for all board and shareholder meetings. As the managing member of the real estate group, my primary focus is on maintenance, expansion, and finances.
I believe it is very important for a board of directors to consist of individuals who will respect others, advocate for the organization without being rude, contentious, or dismissive to other members of the board or to third parties with whom the board interacts. I would be delighted to assist and serve on City of Faith's board of directors.
I am blessed to work with wonderful and talented attorneys, legal assistants, and paralegals. I am also blessed to have a supportive and loving husband, Michael, and four beautiful children (Aiden (14), Sullivan (8), Jag (5) and Blake (5)) who make it all worthwhile.