By Robert McBroom
To describe Kathy to those who don't know her, or at least don't know her well, is a joy and an honor for me.  As her younger brother (and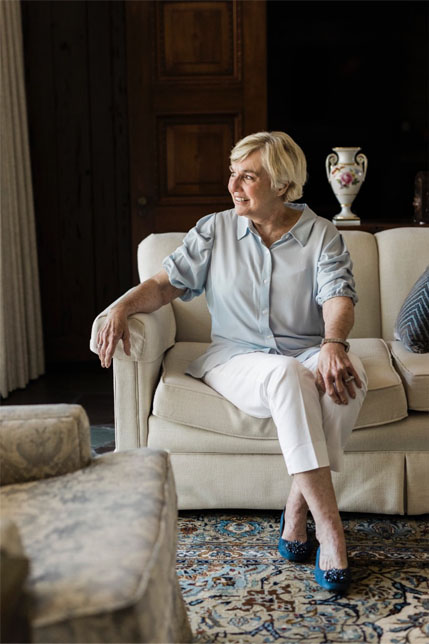 I'm sure some of you can appreciate this), I have had to suppress the urge to not see this as an opportunity for pay back.  When she said she was "going to tell," she meant it.
You may remember Tennessee Ernie Ford.  A popular folk and gospel singer of the 1960's who recorded a song entitled "16 Tons."  There's a line in that song which I think defines the way Kathy always approached challenges and, I believe, is foundational for her success.  The line goes: "I was born one morning when the sun didn't shine.  I picked up my shovel and I walked to the mine."  Kathy always carried her "shovel" of problem solving everywhere she went (and a few extra shovels for those who went with her).  She recognized early that the realization of goals could be accomplished only through work, and most of them required very hard work.
By graciously becoming a part of this ministry we all become, to some degree, heirs to that vision which had begun to germinate in the heart of a beautiful young woman nearly a half century ago.  At that time Kathy began to visit inmates here in the Monroe City Jail on a regular basis.  Over time she realized that for many (if not most) jail was a revolving door and recidivism a way of life. The key question in Kathy's    mind became, what are the circumstances that compel men to reoffend?  During this time, while visiting with an offender she asked him the question, "what can I do for you?"  His response, filled with snark and attitude was, "You get me a job and a place to live."  Kathy was never so naïve to believe that was all that was needed.  There would be court ordered restitution, counseling, child support and a litany of other challenges that inmates would need resolved, but at that moment, the bones and flesh of a vision were knit together and God breathed into it life and, City of Faith was born.  A transitional work-release program that comes with a job and a place to live.
Her vision, in part, unapologetically declared that the redemptive love of Christ extends to every aspect of life.  In her extraordinary and unique "Kathy Way" she transposed and articulated the biblical tenants of Western Civilization: truth.  Goodness and Beauty which became, "God don't like ugly and God don't like nasty."  For Kathy, all things that promote failure could be categorized under one of those headings.
Kathy wanted her houses to reflect those tenants as well and she led by example.  Her houses are beautiful on the outside as well as the inside.  As you've seen, art decorates the walls and common spaces.  It either sparkles or is about to.  All of us have seen her walk into the houses unexpectedly, grab whoever happened to be there (staff, resident or most likely both) and announce, "God don't like nasty."  Then everyone, including herself, would be on their knees washing baseboards, toilets, under and behind washers and dryers.  She left no dust behind.  She wanted her people to learn to live in cleanliness and beauty.  She once told me that most of her residents had been raised in squalor and had never been exposed to the possibility of living beyond that.  She wanted her staff and residents to be proud of where the worked and where they lived.  And clean it.
Kathy's unexpected abruptness is uniquely hers.  Once at the end of a meeting, she noticed one of the staff walking out of the room wearing what was obviously pants that were considerably too small.  "hey Jenn," she called out.  "There's too much of you in those pants."
Celebrated for her generosity, she was the first to recognize a need and fill it.  A few years ago, a young woman arrived at COF as a resident.  Through abuse, accident, drugs or neglect, she had lost all of her front teeth.  Kathy hired her to work at the Dana House where Kathy had daily contact with her.  This particular day, Kathy came in, walked up to her and said, "Let's go get you some teeth."  Transforming lives was her gift.
All of us who know her could fill up a very large book reciting antidotes of a woman who we love a lot, equally admire and are scared of a little.  The awards she has won, the respect of this industry, the gratitude of thousands of men and women who successfully completed this program all attest to the fact that one woman, with a shovel, can change lives forever.
I respectfully ask you, the board, to continue Kathy's vision.  Be diligent in ensuring that this program will maintain the highest standards of integrity in truth, goodness and beauty.
Robert