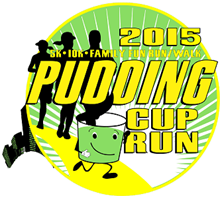 After the success of the 2014 Pudding Cup Run, City of Faith-Little Rock has once again partnered with Midtowne Church of Benton to host the 2015 Pudding Cup Run. The race showcased a 5K/10K/Family Fun Run (Thanks Jon Childs for leading the Family Fun Run!) around the neighborhoods surrounding the church. The race had over 130 registered runners in all 3 races.
The proceeds from the race were split between COF-LR's Silver Linings Christmas Project and Midtowne Church's Backpack Ministry (program designed to feed hungry children in the Saline County area on the weekends). Donations were collected from Central Arkansas businesses as well as entrance fees from participants in the race. Each runner was given a medal, shirt, and swag bag for their participation in the race. "Last year I didn't get to run because we had never done this before & we wanted to make sure it ran smoothly. I had the privilege of running with my family this year. It was so much fun!" stated Deputy Executive Director Terry Williams. The Pudding Cup Run also features bibs with timing chips so that each runner can have an accurate time based on their chosen race.
"We are very excited about how well the race went this year. We hope to continue our partnership with Midtowne Church and keep this event going each year," said COF-LR Program Manager Allen Winkler. Several volunteers from Midtowne Church and City of Faith-LR gave up their Saturday morning on June 20th to help make the race possible. "We love it when our guys get to help in the community. They love helping and serving!" said Williams. The drink stations were manned by Boy Scout Troop 17 from Benton. Safety was coordinated by the Benton Police Department.
For a complete list of sponsors, race results, and pictures from the 2015 Pudding Cup Run, visit www.puddingcuprun.com for more information. The 2016 race will be held at Midtowne Church in Benton on June 18th. Online registration will open in early spring on the PCR website.