City of Faith is proud to announce the addition of a new building to their Little Rock location. "This has been a long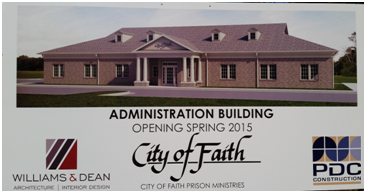 coming dream of mine. We've always wanted to provide more opportunity to our residents but we just haven't had the space," said Deputy Executive Director Terry Williams. The new building will house 8 of COF-LR's current administrative staff with plans to expand personnel later.
"One thing I've learned over the last 20 years is that you can never have too much space," further stated Williams. The new building will also facilitate training and co-op classes for the COF-LR residents. "I'm also pleased that my staff will have a place where they can meet that won't be an inconvenience to the residents," said Williams. The building is anticipated to be completed in Spring of 2015. Ground breaking was started at the end of September directly across from COF-LR's current location.